The capital city of Canada, Ottawa is a clean, well-planned city comprising neo-Gothic federal government offices, residential areas, shops, restaurants, and plenty of outdoor parks, lakes, and woodlands. A bilingual city, Ottawa caters to both French-speaking and English-speaking residents and visitors.

The center of Ottawa is located at 45.41 degrees North latitude and 75.68 degrees West longitude.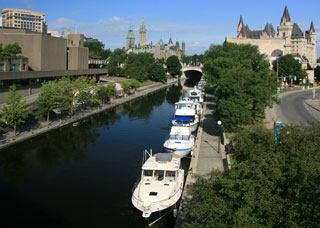 Ottawa attracts a variety of people, and strikes a nice balance between nature and city life. The city is surrounded by a broad greenbelt, which contributes to its clean air and is home to the famous Rideau Canal. The canal is 125 miles long and is used only for recreational purposes, such as skating in the winter and boating in the warmer seasons. While the one million inhabitants of Ottawa make it the fourth largest metropolitan area in Canada, the city of Ottawa is just a short car ride away from true wilderness.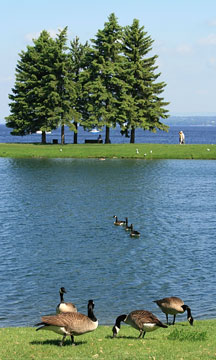 Those looking for cultural activities will not be disappointed in Ottawa. It is home to six national museums, including the National Gallery of Art, where noted collections of indigenous art and other Canadian art are on display. The world-renowned National Arts Centre, which hosts a wide variety of theater, dance, and musical performances, is also located in Ottawa.
While there is plenty for those who like the outdoors to enjoy in Ottawa, the city also has a cosmopolitan feel. Ottawa is home to many top-notch restaurants and hotels, and also boasts excellent shopping.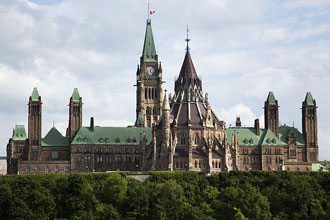 Ottawa's many attractions make it a popular tourist destination, and the city enjoys approximately four million visitors per year. One of the primary tourist attractions is Parliament Hill, with its grand towers and pinnacles. Ottawa is an idea city to tour for those who like to walk, as most attractions are within easy walking distance of each other. Others prefer to view the city from one of the popular double-decker sightseeing buses.
With its balance between nature and cosmopolitan city life, Ottawa offers something for everyone.
---
Copyright © 2010-2022 Map-Of-Canada.org. All rights reserved.

Ottawa, Canada Address Locator Map